Community Activities
Part of the Moose traditional activities have been charitable programs. Moose Family Center #1572 has been active in these areas for many years. Some of our sponsored activities are listed on this page.
Mooseheart Potatoes
Through a generous donation of an "anonymous" local benefactor, 1,500 lbs. of potatoes are shipped to Mooseheart each year. Visit our Mooseheart page for more information about other Moose#1572 activity at Mooseheart.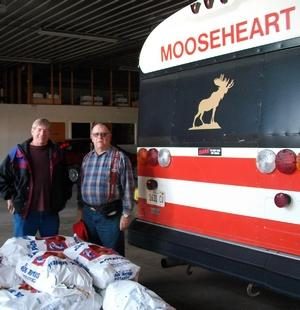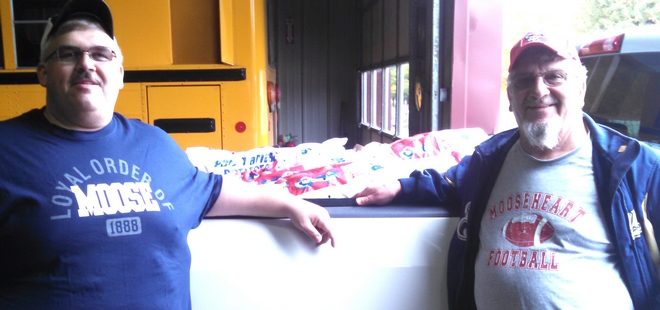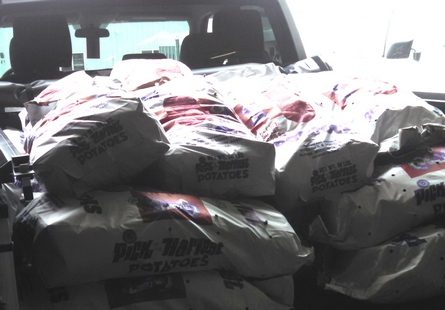 Veterans from King, Wisconsin Veteran's Home
King Vets
Once every quarter, veterans from the Wisconsin Veteran's Home located at King visit our Social Quarters for a Friday Night Fish Fry. This is a sponsored free meal for our veterans. On Dec. 21, 2012 we served our 2000th meal!
See a selection of photos of this milestone.
Thanksgiving Community Meal
Each Thanksgiving our Moose Family Center serves either by delivery or in our Banquet room approximately 300 free meals. Members and others are invited to participate. Donations are always welcome as well as volunteers.
Christmas
Each Christmas season the Moose adopts several families providing them with food items and age appropriate children's Christmas Presents.
Project Graduation
We donate to both the SPASH (Stevens Point Area Senior High) and Pacelli High School programs.
Sponsorship
Each year we sponsor youth sports teams. These include softball and baseball teams.
Highway Clean-up
Several times a year we clean up the highway along the front of our lodge.