Women of the Moose (WOTM) Chapter 311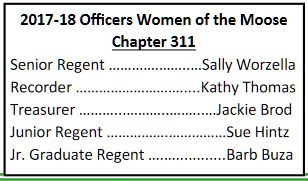 In 1919, fifty four Stevens Point women had the foresight to petition Moose International for Chapter Status. That petition was granted on June 16, 1919. This is the birthday of Stevens Point Chapter 311.
Since its institution, the women of Chapter 311 have dedicated themselves to the support of Mooseheart, and later, to Moosehaven. We have committed ourselves to working hand-in-hand with the Loyal Order of Moose, Stevens Point Lodge 1572. The Chapter is involved in many community services such as Meals on Wheels, Tommy Moose Program, King Vets and children's events as well as monetary donations to SPASH Project Graduation, Special Olympics and the Boys and Girls Club to mention a few.
Our Chapter is directly involved with the students at Mooseheart through the Sunshine Child Program. Our student's name is Sarat Yusuf-Omane. She is a sweet, bubbly 15 year old young lady whom we hear from on a regular basis. We make sure to remember her on her birthday, Christmas as well as other special times in her life. We also, in conjunction with the Loyal Order of Moose, sponsor a senior student by paying for his/her senior portrait. There is no greater gratification than helping a child. This is our purpose for being!
Chapter 311 is proud to be the home to Katie Ligenza and Judith Laabs. These two co-workers have served in the position of Deputy Grand Regent. Their hard work and dedication to Moose International is amazing. We are also home to Loretta Nowak, Barb Griffin, Dorothy Suchowski and Sue Clussman. These ladies have earned the International Co-Worker of the Year award. This award is given to co-workers in recognition for Community Service, volunteering within the Chapter and Lodge, and guiding new officers and members. We are grateful for the devotion they have shown.
We are proud of the history of our Chapter, and we will continue to carry on the traditions and dedication of those original fifty four women.
There are many benefits to having a Moose membership. One is the R. Robert Dale Scholarship available to all Moose Members and WOTM with High School Children. The R. Robert Dale Scholarship has been renamed as the "Heart of the Community" Scholarship Program.
Please visit our "Interested?" page for addition information.