Ben Gave This Presentation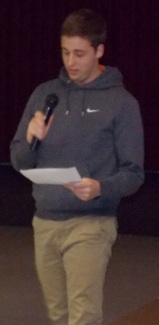 Hello, thank you for having my peers and I to speak. My name is Ben. I'm 16 and a junior at Mooseheart High School this year. I came to Mooseheart on October 27, 2011. I would like to take the time to tell you my story.
I'm from Sterling IL, about two hours away from Mooseheart. I have two brothers and two sisters. My brothers' names are Griffin; who is 13 and the other, Adam, who is 9. My sister's names are Danika and Natalie. Danika is 19 and Natalie is 15. I came to Mooseheart because I was having a lot of trouble with focusing on school and surrounding myself with the right people. There was a lot of drugs and peer pressure around the area, and my mom didn't want me to live in that kind of environment.
I am very glad I came to Mooseheart. I feel like if I didn't come to Mooseheart, I would not be able to succeed in my high school career. I have learned how to be respectful towards my peers and my elders. The ROTC program has taught me to be well disciplined. It has also helped me to make my choice to go into the National Guard. From Mooseheart, I have learned other things as well, such as how to cooperate with a house of ten guys and how to make eggs. One trait I am very glad I took from Mooseheart is how to act and dress during an interview. Over the summer, I was hired at burger king for a summer job while I was home for break.
Being at Mooseheart has given me the opportunity to realize what my mom has done for me. She gave me a second chance to fix what I had messed up. I remember sitting on the couch one day with her when I was home and I just looked at her and said thank you. Everything that she has done for me I will never be able to repay her for. She does an unspeakable amount of things for me. When I first left, I knew it would be hard being away from my family and friends, but I knew if I focused on the big picture, nothing could get in my way. After being at Mooseheart for two years it has opened so many doors and has helped me figure out what I would like to do when I graduate from high school.
Another fine group of people I would like to thank is my wonderful family teachers. They helped me through probably one of the hardest times in my life. About 6 months ago my grandpa passed away. About two weeks before that my family teachers did everything they could to get me home. They checked in with me almost every day to see how I was doing and to see if I needed someone to talk to. That goes to show how much they care about us and what they would do for us. I've lived with Rodney for my 2 years of being at Mooseheart. I have had a lot of fun times living with the old man. Zach and Mellissa moved into our house at the start of the summer last year. I like having them in the house because it feels more like home. Plus she can cook so that's always a good thing.
My plans after Mooseheart are to join the National Guard, apply to a junior college, and get my associates degree in criminal justice to become a cop. I would like to be a cop because I like to help people and plus who doesn't want to drive a cool car and be looked up to.
I would like to thank you for coming and listening to me and my peers. Thank you for all the generous things you do for Wisconsin home and Mooseheart. It is greatly appreciated. Thank you again for coming.