Chris Gave This Presentation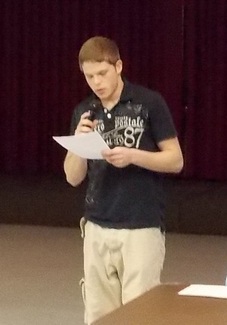 Early one morning in August 2008, I was asleep in my downstairs bedroom, when I was awoken by the sound of strange voices and heavy footsteps. When I went upstairs on my investigation, I was confused by the scene before my eyes. There where bright flashing lights coming through our little house windows while brightening up our little cul-de-sac. Then there was my dad sitting there on our living room recliner screaming that he was having a heart attack. There were three strangers surrounding around my dad, who I later found out to be the paramedics driving the bright lit ambulance out in front of our house. Through my dad screaming, my mom crying, my sister absent and the dog losing his mind outside on the porch... all I could do was stare. The whole scene was over so quickly. They packed my dad upon a stretcher and wheeled him out the front door for all I know as the last time I'd see him. My mom went into the ambulance with my dad leaving a son and a daughter momentarily without parents. My sister and I had gone two blocks up the street to stay with my grandparents for the time being while my dad would have tests done on him. While at my grandparents for two long days I just watched T.V. But didn't comprehend what I was watching due to my mind being elsewhere. I soon got a call that my dad would be coming home.
My mom and dad were welcomed back into our house by my sister and me. My dad had said nothing as I pretty much carried him to his room. After getting my dad settled into bed, I had left him to go and track down my mom. After conversing with my mom I had concluded all the loopholes. My dad didn't have a heart attack, but actually had a seizure caused by a large tumor on the right side of his brain causing him numbness down the whole left side of his body. The doctors had said that the tumor was too large and cancerous to be removed and he had a maximum of two years to live. This would explain the muteness that I was getting from my father. We didn't know what was going to happen to my sister and I due to the loss of his income. Well after thinking upon the situation I asked my mom what about Mooseheart. I had thought why not, my parents met and got married in a moose lodge... so it shouldn't be too bad. So after a large amount of paperwork and a bunch of packing, I found myself crammed inside of a mini-van heading North with some of my belongings. I was actually going to Mooseheart.
I arrived to Mooseheart on February 19, 2009. I remember it was the coldest day I had ever experienced; I wanted to go back to my Southern weather where things make since. I was placed in New England home with middle school and elementary school boys. I would now be leaving with nine other guys and three house parents... all of which who were strangers to me. I was given a room that I would now have to share. But I didn't mind because I used to share a room with my older brother. After my parents left I was warmly greeted by all of the members in the house. That night they told me a little bit about themselves and we even had a small welcome party. It really made me the center of attention, and for a kid with low self-esteem... this wasn't the best place.
I started school the next day. Right when I walked into the school I could see that everyone knew everybody and "New Kid" was stamped on my forehead. This meant that once again I was the center of attention. Everyone looking at me but not saying anything, if you know what I'm talking about you end up checking your teeth for food. It was like this all day until I had gotten to lunch. See during lunch is when we'd play basketball. I wasn't the best at it, but I could get rebounds. So I started making friends because people wanted me on their team. I then got the courage enough to join track.
After a few months of living at Mooseheart, I got a phone call one day from my mother. She had found a brain surgeon down in Little Rock Arkansas. He was from England and specialized in the human brain. After redoing all the tests on my father, the doctor had the results and a game plan for my father. He came in and he said that my dad's tumor wasn't even cancerous. He said it would be no problem. In six hours we'll stick a needle down and suck out the tumor tissue. So that's what they did, and a few days later my dad was back home with his life span back on track. My mom called me wondering if I wanted to come home because my dad was back. We could go back to the ways things were. I didn't have to think about it... after being at Mooseheart I decided that I would go through and finish school and graduate from Mooseheart.
The rest of my middle school years were pretty easy and I never had to study for my classes. I was really quiet; I just wanted to do my school work and go to bed and do it all over again. During this time I also did football wrestling and track.
Freshmen year than started and I was now on the second floor of the school building. I still went through freshmen year like I did my middle school year, quiet and to myself. But I did find something I was good at.... N.J.R.O.T.C. I could easily march and the classroom work was easy. I liked it so much that I was the only freshmen who went to boot camp from Mooseheart. It was a Blast! Everything from confidence courses, teamwork, navigation, sports, swimming, weapon simulators, physical fitness, three minute showers and man hunts all spelled out one thing for me.... I was going into the military.
When I got back to Mooseheart they said that I would be moving into a different house. Turns out I was too old to stay in New England home. So two weeks before my sophomore year I was moved into Wisconsin home. I somewhat knew the guys in the house but would have to meet new F.T.s'. That's where I met Rodney... for the second time. The first time was when he worked in New England home. We went to Chicago to go ice skating but Rodney just stayed inside. That was the day I found out that people from Wisconsin hate the cold just as much as I do. The only weird thing was now I had someone who told me what to do while being younger than my brother. But learned to deal with it.
My sophomore year was really when I branched out. I believe that boot camp had given me courage to reach out and test the waters around me. I was actually talking to people in school who I had never talked to before. I also decided to join Color guard, Armed and Unarmed drill. With these I was marching better and my movements were crisper. I had really just enjoyed my sophomore year and couldn't wait for my Junior year.
My Junior year was really good. I went straight from football into wrestling. This time I even spread myself out by joining poetry club, athletic team, academic team, choir and prom committee. But the most fun I had my junior year was track season. I had been put on the 4X800 meter relay, so there were four guys and each guy would run for half a mile. My group of guys was really guys who didn't make it into any other event and were put there so that we had a team for that event. So at the beginning of the year we struggled, but towards the end we started actually placing at the meets. Then sectionals came around... I couldn't believe that we got second! My Cinderella team of the 4X800 were going to state! It was so much fun at state. We were going in ranked thirty second out of thirty two teams... but left twenty fifth. Track really was the highlight of my Junior year and going into my Senior year.
The start of my senior year was okay. I started on special teams for football and backup linebacker. Towards the end of the season they had thrown me in more and even started a few times at linebacker due to injuries throughout the team. My coaches then found out the last two games that I wasn't the biggest, strongest or the meanest linebacker... And even though I was the smallest linebacker, I could go through blocks and hit hard. After our last game the linebacker coach had told me that he wished that he would have put me in more often at the beginning of the season. I wasn't really mad, but glad that someone noticed that I was good at something.
So football season had not ended up to my expectations. But now I was heading into wrestling. This year I was wrestling at the one fifty-two pound weight class. I wrestled okay throughout the season and even came out with a second place medal at one of our tournaments. Then I really surprised myself by getting second at regionals! I was now a first time sectional wrestler. I didn't do too well at sectionals but both guys that beat me had gone off to state. I was just happy to have gotten that far.
So I was talking about how I had joined the drill teams my sophomore year, well now it was my senior year and it was time for me to step up. I then became the Mooseheart Master Chief Petty Officer or also known as an E-9. My job was mustering officer, so I have to make sure everyone is wearing the right uniform and is where they're supposed to be when they're supposed to be there. Along with my job I go to every ROTC event and represent all the enlisted ranks. I'm also a secretary to our Company Commander Brandon. And the most important to me is that I am in charge of both of those armed and unarmed drill teams.
Today I still live in Wisconsin home, I am 18 and of course a senior. My sister Kayla is 16 and is in the 8th grade and still lives at Mooseheart in New Jersey home. I have two older brothers, the oldest is Daniel and he is 29 and works in Houston, Texas at a news company. And my other brother Cory is 21 and is a spec opps intelligence gatherer. My parents are still together and are both on disability. I myself am in the process of finding a job off campus, I am trying to save money to buy a car and to help pay for college. I have been accepted into Lewis University in Romeoville Illinois. Here I plan to either study to become a pilot or an aircraft mechanic. After college I want to join into the Air Force through their Officers course.
Mooseheart has really taught me a lot. I have a second chance, I can go to college, and I can succeed. I can now talk or perform in front of crowds, I am not shy and I have really become comfortable in my own skin. I have learned the importance of a job, and the power of friendship. I now know how to act with a certain group of people. I know how to talk to someone in order to get the information that is needed. I really have just learned how to be a good citizen and a positive enforcement on society. But overall I have learned that my family loves me... not the family that I know by blood.... but the family I have gained through the Moose. From all of my peers, F.T.s, coaches and staff but also to the numerous lodges, chapters and Moose organization around the country. I know that today I have millions that will back me up when they're needed. Thank you.